Label Themes and List Descriptions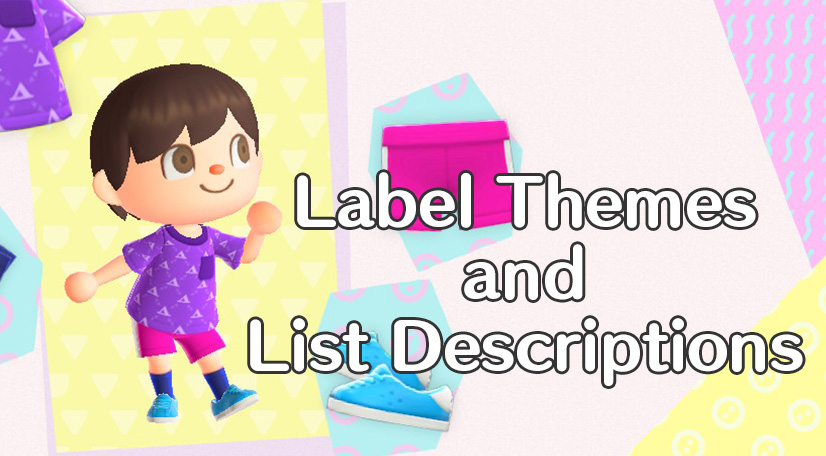 Today's update to the site brings two new features and several bug fixes. We have added Label themes to our search filters, and you can now add descriptions to the top of your lists to help with trading.
Label Themes
Our search filter now includes a new attribute: Fashion Theme. Every article of clothing in Animal Crossing: New Horizons has an attribute called the Label theme, which is used to determine if your article of clothing fits a particular Label fashion check quiz. While we previously had this attribute available for New Leaf items and Gracie's fashion checks, we have expanded it to include New Horizons data as well. When you search for New Leaf, you will only see applicable themes to that game. Similarly, when you search New Horizons (which is our default filter), you will only see New Horizons fashion themes.
We have compiled a useful table below to help you quickly access all of these filters. Click on a particular theme to be directed to a browsing page that contains items which only fit the given theme! Or, you can browse all clothing yourself and select one or more fashion theme filters.
List Descriptions
Starting today, you can now add a description to the top of your list to help your visitors understand the purpose of your list. You can see an example of this in action at this example list.
Other Changes
We also fixed some other issues in today's update, including:
Fixed incorrect information on some New Year's items;
Made personality and other game-dependent filters behave properly. For example, selecting City Folk no longer allows Uchi villager personalities to be selected;
Changing filters now brings you to the top of the result list, for a more streamlined mobile experience.
Some parts of this update make use of the ACNH Datasheet.