New Horizons 2.0 Villagers Now Available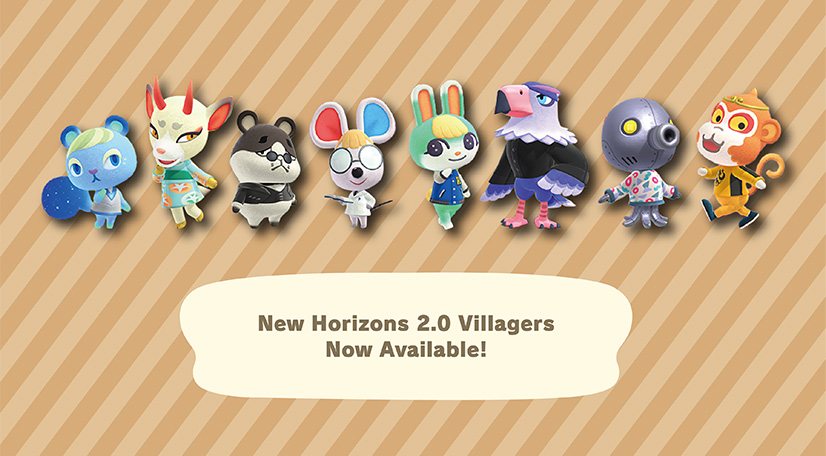 Slightly ahead of schedule, we are excited to share that we have added all of the upcoming villagers Nintendo announced in the Animal Crossing: New Horizons 2.0 direct! Please see the sections below for a full list, as well as some additional information about each villager. The 2.0 version of New Horizons brings a total of sixteen new villagers to the game. All of the villagers can be invited to your island using the announced Amiibo cards. We presume they can also be invited to your island via Nook Miles tours, but until we play the game, we cannot state this with confidence.
New Villagers
Eight of the villagers coming to Animal Crossing: New Horizons 2.0 are entirely new! We hope you are as excited as we are to invite them to your islands! Check below for a complete list of them!
Returning Villagers
Eight of the villagers Nintendo announced in the direct are villagers returning from the old GameCube Animal Crossing games. Some of them are from the Japanese-only Animal Forest e+. As they never had officially translated names, we used the fan-assumed translations on our website. Starting today, however, we are now using the Nintendo-provided translations. The old and new names are provided below, when appropriate.
Acknowledgments
The renders for villagers we are using presently are from the German Animal Crossing wiki. A major thanks to that team for providing such clean renders from the Amiibo cards. Additionally, special thanks to Animal Crossing World for their excellent article on the new villagers which made this update easier to put together.
A Note On The 2.0 Update
The upcoming Animal Crossing: New Horizons update is very large. We plan to update our websites with all of the new information, but the size of the update may make this a time-consuming process for us. We may upload data in stages, and things may be incomplete for a little while as we work through it. Please be patient, as we are working as hard as we can to get everything up on the website for your enjoyment.
As always, THANK YOU so much for using VillagerDB! This site grew from a fun fan project into a website used by millions every month, and we could not be more thankful to all of you for motivating us to keep working on it. THANK YOU!!!